Environmental Education
Education Resource Library
Resources for classroom, at-home and community learning
Browse our resources to guide your environmental education lessons and stewardship activities on Earth Day and throughout the year. These resources can be adapted to a variety of ages and settings.
---
NEW! Restore Our Earth
Climate Education Week toolkit
Explore 5 days of activities on ecosystem services, the carbon cycle, food sustainability, ecosystem restoration and civic engagement. Use these activities to engage throughout Earth Week, or anytime throughout the year!
---
NEW! Advocacy Packets
This series of packets will walk students through the process of implementing change in their community. Created by students, for students, these packets are packed with background information, ideas and sample letters to send to stakeholders.
---
NEW! What is cop 26 and the Paris agreement?
Use this page to learn more about COP26, the Paris Agreement, and what EARTHDAY.ORG is working to accomplish with global leaders. Use this information to spark discussion and plan a Mock Cop event for your students.
---
The first Earth Day was a nationwide Teach-In. Host an event to address critical environmental and social issues in your community. Use our brand new Restore Our Earth grab bags to help plan your teach-in.
---
Climate Civics Toolkit
Explore 5 days of activities to learn about climate and environmental issues, the communities they impact and how to take civic action!
Environmental History Timelines
Use these resources to explore how environmental science, justice and activism has progressed through time. Edit the PowerPoint to add in local examples and add your plans to make history!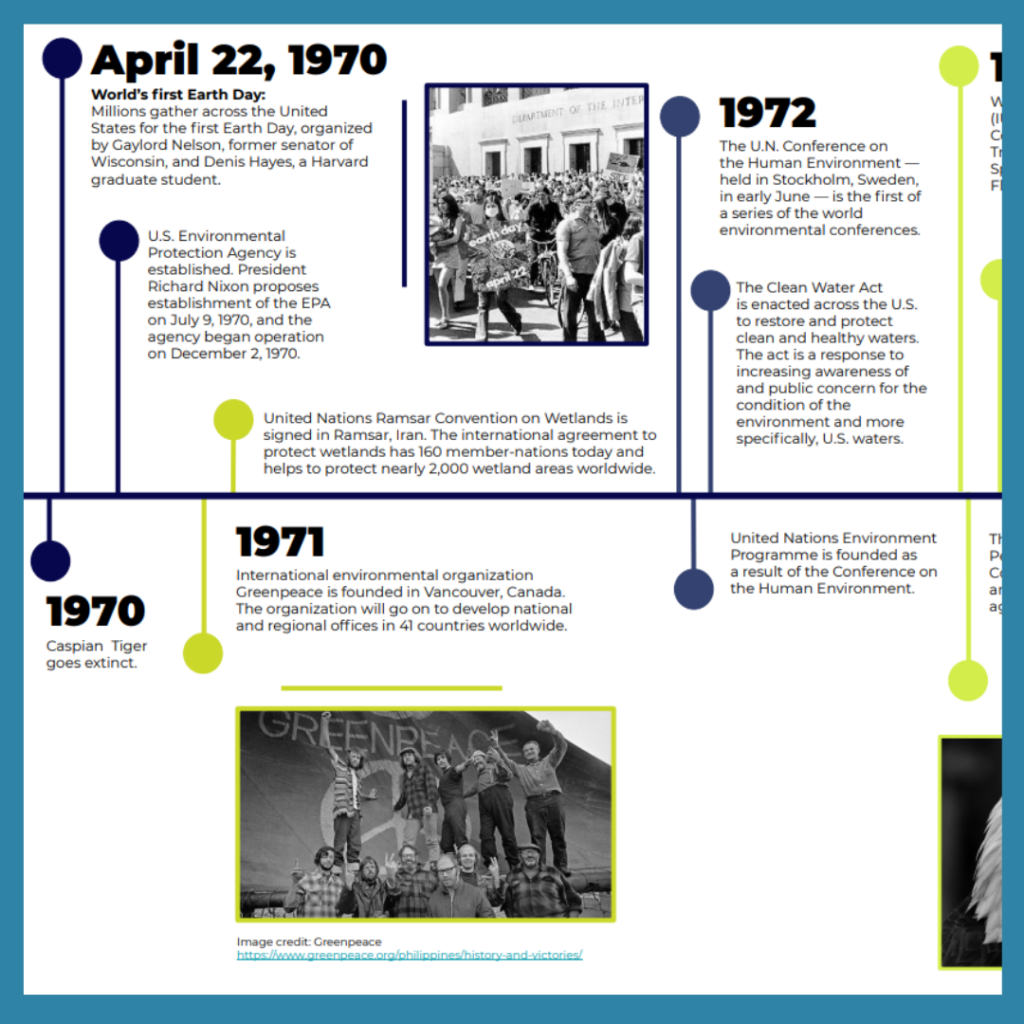 Lesson Plans
Use these Beginner, Intermediate and Advanced activities along with the Global Earth Challenge app to explore these environmental topics.
Pollinator Toolkits
Find out how pollinators shape the world around you and how you can protect them!
Climate Education Week Toolkits
Follow these daily activities to learn more and find out how to take action. Use them as a way to prepare for Earth Day, or any time during the year!
quizzes
Test your knowledge on biodiversity, climate change, plastic pollution, deforestation, clean energy and more.
Earth Day action menus
Whether you are planning activities on April 22nd or stewardship events throughout the year, these menus will give your organization ideas for events and action items on species protection, food sustainability, plastic pollution, climate change and more!
---
Resources from our partners
EARTHDAY.ORG™ is proud of partner with a number of organizations around the world who are as dedicated to science and climate literacy as we are! Explore their online lessons, activities, videos and games.
Reading list
Elementary
Middle School
Our World Out of Balance: Understanding Climate Change and What We Can Do by Andrea Minoglio
Old Enough to Save the Planet (Changemakers) by Loll Kirby
The Green Teen: The Eco-Friendly Teen's Guide to Saving the Planet by Jenn Savedge
High School
Climate Justice: Hope, Resilience, and the Fight for a Sustainable Future By Mary Robinson
The Day the World Stops Shopping by J. B. MacKinnon
The Optimistic Environmentalist: Progressing Toward a Greener Future By David R. Boyd
Where the Water Goes: Life and Death Along the Colorado River By David Owen
Eat for the Planet: Saving the World One Bite at a Time by Nil Zacharias