Since 1970, A Legacy of Environmental Action
The first Earth Day in 1970 mobilized millions of Americans from all walks of life, giving birth to a broad new movement to protect the planet. On April 22, 1970, 20 million Americans — 10% of the U.S. population at the time — took to streets, college campuses and hundreds of cities to protest environmental ignorance and demand a new way forward. The first Earth Day is credited with launching the modern environmental movement. Earth Day is now recognized as the planet's largest civic event each year.
LANDMARK ENVIRONMENTAL LAWS
Earth Day 1970 led to the passage of landmark environmental laws in the United States, including the Clean Air, Clean Water and Endangered Species Acts and the establishment of the Environmental Protection Agency (EPA). Many countries soon adopted similar laws, and in 2016, the United Nations chose Earth Day as the day to sign the Paris Climate Agreement into force.
EDUCATION & ENVIRONMENTAL LITERACY
Climate Literacy Campaign: Over 3 billion students lack environmental education, stranding generations without educating them on the most critical issues facing the planet. In 2020, EDO launched the Climate Literacy campaign, urging governments attending the crucial United Nations climate summit in 2021 to make climate literacy a core feature of school curriculum across the globe. In addition to EARTHDAY.ORG, early backers range from the world's largest trade and teachers' unions to environmental organizations, NGOs, and elected officials from around the globe. To date, 400 organizations representing 100 countries and over 300 million people have signed on in anticipation of stepped-up action and ambition at COP26.
National Civic Education Program: EDO launched the National Civic Education Project (NCEP) to promote the development of civic engagement skills among youth while solving local environmental issues. With the help of teachers and community organizations, students take on tough but solvable yearlong local environmental issues with demonstrable outcomes. More than 50 NCEP projects have been completed and in every case the students have logged impressive victories.
Educators Network: Over 95% of primary and secondary schools in the US and millions of schools globally observe Earth Day each year. Established in 2004, EDO's Educators Network reaches educators in 149 countries , providing students with the knowledge and skills to build environmental and climate literacy. In 2020, we launched our inaugural class of Earth Day Schools, featuring a global network of schools hosting environmental and civic education programs – it has grown exponentially since its creation.
Green Schools: EARTHDAY.ORG (EDO) is a recognized leader in Green Schools and environmental education. For more than 25 years, EDO has provided well researched, peer reviewed environmental education curricula. Our efforts have reached hundreds of thousands of schools across the U.S. and in key countries abroad.
Green Ribbon Schools: EARTHDAY.ORG was a founding partner in the creation of the Green Strides Program and the Green Ribbon Schools award alongside the US Green Building Council and the Department of Education. Launched in 2011, the Green Ribbon Schools Program is the first federal program that recognizes public and private schools that reduce environmental impact and costs, improve the health of students and staff, and provide interdisciplinary environmental education.
Green School Funding: EARTHDAY.ORG helped pass legislation providing roughly $7 billion in grants to green low-income schools across the country — the first federal grant program for greening schools.
Recent campaigns have included major school bond initiatives; climate/air quality related anti- idling campaign; and energy efficiency projects. In Cincinnati, for example, students from three low-income schools worked with green architects and community groups for more than a year to turn a business-as-usual bond initiative into a green bond initiative. Cincinnati not only accepted their recommendations but also expanded upon them, agreeing to "green" almost $5 billion in school construction, now leading the U.S. in building green schools. In Los Angeles students forced the LA school district to buy new HVAC units for all LA schools after proving that LA schools failed EPA and state indoor air quality standards.
In 2012, EDO was a key supporter of passage of Proposition 39, a voter initiative generating roughly $1 billion dollars over five years to be invested in energy efficiency upgrades in public K-12 schools and community colleges. In 2013, the California legislature determined that schools with most students receiving free or reduced priced school lunches would receive larger energy efficiency grants. Under these programs, EDO worked to accomplish innovative pilot projects in low-income schools in the San Francisco and LA areas while using CRA (Community Re-Investment Act) funds to expand improvements, provide climate curricula to schools and engage local civic leaders and community members, ensuring that the projects last and expand over the long-term.
MobilizeU: Launched in 2012, MobilizeU empowers college organizations and students to make a difference on their campuses while also encouraging universities and colleges to set an example for the rest of the higher education community to follow. Over 500 colleges and universities in 51 countries and every US state have participated.
.
CIVIC & PERSONAL ENGAGEMENT
Earth Day 50 (2020): Over the last several years, and in anticipation of the 50th anniversary of Earth Day, EARTHDAY.ORG continued its work building the largest, most inclusive environmental movement in the world. With staff in over 40 countries, EDO enlisted governments, corporations, hundreds of thousands of NGOs and community organizations, major social and traditional media partnerships, diverse faith groups, as well as millions of teachers, professors, students, seniors, youth groups, and others.
As the long-awaited anniversary approached, the tragedy of the Coronavirus pandemic arrived and by Earth Day itself, 3.9 billion people were sheltering in place. Yet rather than shutting down its impact, the lens of the pandemic served to heighten awareness and inspire meaningful action as millions of people – often for the first time – personally absorbed the urgent and interconnected risks of climate change and human health.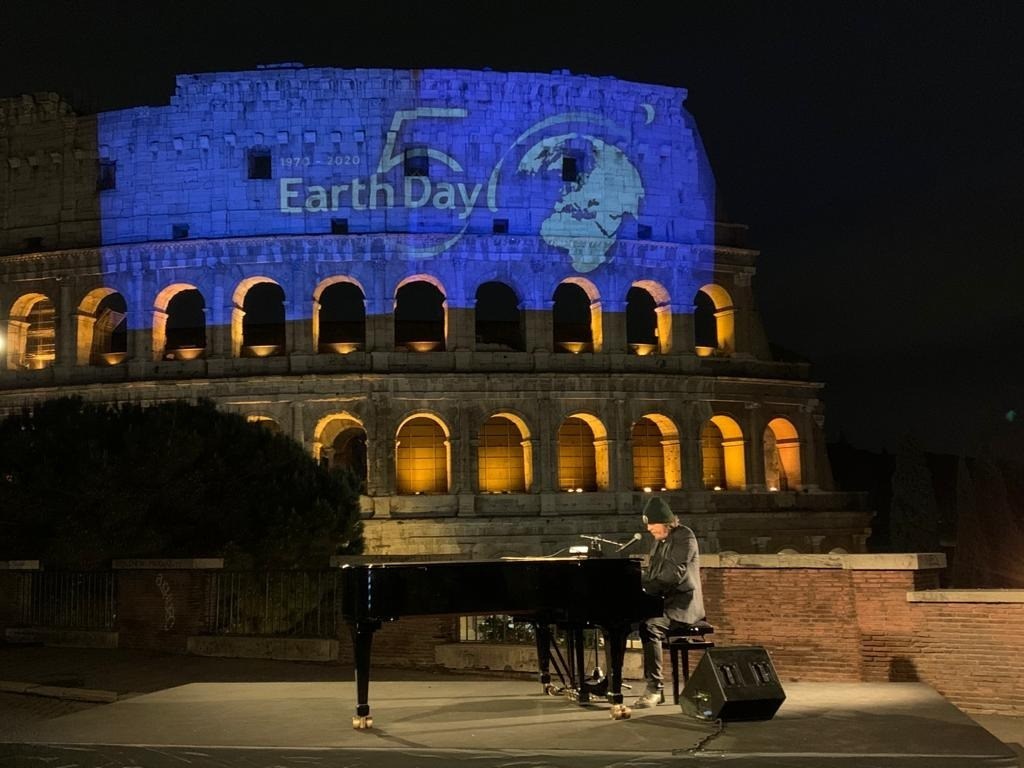 From the beginning of 2020 through Earth Day, EDO media outreach and messaging resulted in over 9.9 billion impressions from readers/viewers/listeners globally.
The 12-hour Earth Day Live® event on April 22nd had 20 million views around the world
Earth Day cleanups took place in 180 countries despite COVID limitations, and 8 million people viewed the Great Global Cleanup® documentary on Discovery Channel worldwide.
The global EDO Street Art Protest spotlighted 500+ graffiti and street artists.
1.4 million Scouts earned their Earth Day badges
Over 2 million participated, via online avatars, in the Digital March on the Ellipse of the White House
Sung in eight regional languages by top vocalists of India, Dharti Ma (a tribute to Earth) was heard by over 10 million people worldwide.
His Holiness Pope Francis broadcast an Earth Day message of hope to the world's 1.2 billion Roman Catholics and the global community
A Billion Acts of Green®: From students in classrooms to organizers in their communities to officials in government there are ways for anyone of any background to make a difference. Launched in 2012, A Billion Acts of Green supports and highlights the many ways individuals contribute to improving our environment – now with nearly 3 billion acts to date.
Voter Registration: EARTHDAY.ORG has registered over 1.5 million environmental voters and counting through its various programs (including VoteEarth, MobilizeU, and Campaign For Communities), and was the first group to build relationships with African American and Latino faith groups around environmental activism. In 2020, on Vote Early Day, EARTHDAY.ORG partnered with Hip Hop Caucus and Al Gore's The Climate Reality Project on Your Vote Your World, a 2-hour livestream "get out the vote" event on Twitch and social media reaching nearly half a million youth and environmental voters with consistent calls to action around getting out the vote via texting, phone banking, etc.
Earth Day on the National Mall: Beginning in2000 and taking place on key anniversary years and other strategic moments in time,EDO hasorganized and presented some of the largest free speech environmental events in the history of the world, often taking place on the iconic National Mall in Washington DC.
Free of charge and open to all citizens, these massive First Amendment Earth Day rallies – for example in 2000, 2008, 2009, 2010, 2012, 2015 and 2017 – have educated and engaged millions of people and inspired them with commitments and messages from world leaders, activists and influential celebrities. Beginning in 2010, Earth Day on the National Mall has been digitally live streamed, allowing millions of citizens of the world to virtually participate in real time.
March For Science Earth Day 2017: On April 22, 2017, 150,000 supporters of climate science and evidence-based facts came out on the 47th anniversary of Earth Day to stand with us for truth. The Washington DC event became the flagship for rallies, marches, protests and teach-ins in more than 600 cities all across the world — an unprecedented global statement of unity and strength. Millions more watched online.
My Future My Voice launched on Earth Day's 50th anniversary, bringing focus on young environmental leaders across the globe. These Youth Ambassadors help protect biodiversity, increase the green cover, manage waste, work to reach net zero carbon emission, put art forms to use as effective communication techniques, save precious natural resources and, just as importantly, educate others as well. At present, Youth Ambassadors (some even below the age of 10 years) from over 50 countries in Asia, Sub-Saharan Africa, South America, the Middle-East and Island States of the Pacific Rim are enrolled in My Future My Voice. We provide them opportunities to engage with discussions on UN platforms, tools, training and more, so that they hone their skills to lead environmental actions even wider.
CONSERVATION & RESTORATION
Canopy Project: Since 2010, EARTHDAY.ORG has planted hundreds of millions of trees in 32 countries, focusing on areas most in need of reforestation. The Canopy Project has empowered rural and urban people to conserve, repair, and restore tree cover to their lands and rebuild local economies. Tree planting projects take place in communities challenged by the impacts of climate change and deforestation – often drought, flood, landslide, hurricane or forest fire – with resulting food insecurity and community destabilization. Each project includes community training and education to ensure long-term tree survival and to build sustainable economies for people most in need.
The Great Global Cleanup® / Plastics Pollution Campaign: The Great Global Cleanup successfully launched in April 2019 in thousands of cities and towns across the U.S. with 5,300 events and over 510,000 volunteers. Simultaneously in India, EARTHDAY.ORG launched a landmark citizen-led cleanup of the iconic River Ganges—India's most famous and sacred river to encompass 100 riverside cities and towns. On September 21, 2019, working with World Cleanup Day and National Cleanup Day, over 36 million people in 169 countries participated in cleanups on a single day. In April 2020, despite pandemic restrictions, over 5 million volunteers in the U.S, and 15 million globally completed local cleanups with a goal of creating clean communities and ending waste pollution worldwide. Since launching in 2018, the Plastic Pollution campaign has increased awareness of the many issue surrounding plastic pollution ad generated millions of digital engagements.
Farmers for Earth, launched on World Food Day 2019, is a free, information-sharing platform for small and medium-sized farmers. It provides opportunities for farmers to connect with sustainable agriculture practitioners and subject experts, receive information on funding sources to avail for a switch to environment-friendly measures, and establish dialogues with growers across the country, to learn about ways they use water judiciously for irrigation as also other techniques of climate-resistant farming. Tried and tested benefits of growing multi-crops, the efficacy of collective seed banks, ways to preserve post-harvest produce, positives of a switch to solar-powered pump systems and market linkages that offer the most competitive prices, are also discussed.
Over 100 Farmer Producer Organizations and NGOs have already participated in our train-the-trainer model webinars. Their collective outreach is to around 500,000 farmers, all of whom now have access to the common platform. We continue with in-depth training for these enrolled members and widen the outreach to others, so that a significantly larger percentage of India's farmers practice climate-resilient agriculture.
RESEARCH & SCIENCE
EARTH CHALLENGE 2020®: EARTHDAY.ORG, the U.S. Department of State's Eco-Capitals Forum and the Wilson Center launched Earth Challenge 2020—a global citizen science initiative that unites ordinary citizens with state-of-the-art science and demonstrates how each person's small digital acts can add up to global change. Using mobile technology and an opensource citizen science database, EC2020 empowers people around the world to help monitor and improve environmental and human health. To date, over 50 million data points (via 10s of thousands of app downloads) have been captured and are available to researchers worldwide, as the database continues to grow.
Urban Environment Report (2012): EARTHDAY.ORG's Urban Environment Report (UER) broadened our view of environmental quality of life by taking into account those who often suffer the most but are heard the least. UER scored the environmental performance of 72 of our nation's cities based on over 200 indicators, taking into account those populations which may have greater sensitivity or susceptibility to environmental, health, and social problems.
Climate Change and the American Diet (2020): In partnership with the Yale Program on Climate Change Communication, EARTHDAY.ORG released a groundbreaking study, covered by news outlets across the globe, on American's food choices and eating habits, motivations and barriers to purchasing plant-based foods, and the awareness of our food's connection to global warming.
.