Climate Action
Youth activists talk climate action before Global Climate Strike
This morning, Earth Day Network and Twitter co-hosted "Bringing Youth to Power," an event that showcased some of the most prominent voices in the youth climate movement. The panel gave these activists a platform to discuss the challenges, fears and motivations in the existential fight for the future.
"We have the opportunity to save the Earth, because we've led change before, and we have to lead change again," said Jerome Foster II, 17, who strikes every week in front of the White House and recently helped organize the Fridays for Future D.C. strike with 16-year-old Swedish activist Greta Thunberg.
Moderated by Vice News D.C. Correspondent Elizabeth Landers, the panel comprised eight youth activists, representing organizations like Zero Hour, Earth Uprising, the Sunrise Movement, Earth Guardians and Fridays for Future.
To a packed room at Twitter D.C., Hip Hop Caucus President and CEO Rev. Lennox Yearwood, Jr., sporting a black hat that read "Climate Strike" in white capital letters, introduced the event.
"We must transition, and we must transition right now," said Yearwood, speaking of the need to cut ties with the fossil fuel industry. "If we don't win, we all lose. And we can't lose."
The climate activists discussed the origins of the climate change crisis across two panels, as well as laying out plans for the upcoming climate strikes on September 20. Jamie Margolin, 17, founder and co-executive director of Zero Hour, kicked off the first panel, citing colonialism as one of the major roots of climate change.
"This is really how we got here — that colonialist-extractive mindset, that everything is for sale, that other people, land, animals, everything is a resource to extract and take from," said Margolin. "Really, the climate crisis started in 1492."
Margolin referenced the vast overconsumption of industrial nations, like the U.S. If everyone acted like the U.S., she said, we'd be doomed. By understanding this, argued Margolin, we can begin addressing our current climate crisis, transitioning away from fossil fuels and toward more sustainable practices.
One way to transition is by incorporating indigenous perspectives into climate change solutions. With the climate crisis, governments must recognize the unique and impactful perspectives that indigenous communities bring to environmental conservation.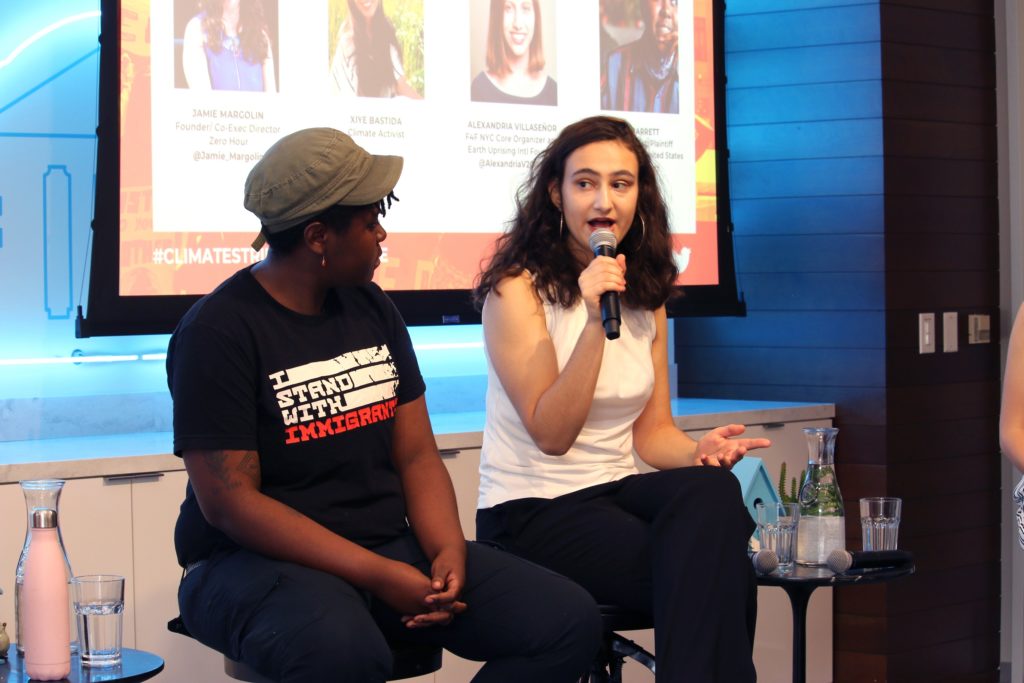 "All life is connected, all life is sacred," said Xiuhtezcatl Martinez, 19, indigenous activist, hip-hop artist and youth director for Earth Guardians. "We have a responsibility to honor our ancestors and future generations by defending the sacred. Rather than just this notion of environmentalism, it's about humanity."
Alexandria Villaseñor, 14, founder of Earth Uprising, argued the importance of endurance and persistence when striking and advocating for the planet. Villaseñor regularly strikes outside of the New York City headquarters of the United Nations.
"I want world leaders to act on the climate crisis immediately, and if they do not, the youth will continue demanding they do," said Villaseñor, in an interview after the event. "It is important for young people to stand up for our futures and demand action, because we are the ones being handed this future."
With ages ranging from 14 to 21, the panelists are young by definition. Many skipped school to speak on the panel and many are juggling their speaking and organizing with homework and other obligations. To these students, though, there is no other choice.
"The weight of the climate movement has been put on our shoulders because of political inaction," said Villaseñor.
The youth climate movement is one of the strongest forces in tackling climate change. The movement has gained a lot of momentum in the last year, partially due to the media attention drawn by Swedish activist Greta Thunberg, whose striking led to the Fridays for Future movement.
"Bringing Youth to Power" seized this momentum to offer a preview of what's to come later this week. Climate Strike NYC, taking place this Friday, is the major striking place for the youth climate movement worldwide. The turnout for that event and the momentum that follows will shed light on the potential long-term success of the youth climate movement.
"The biggest stress on my mind right now is what happens after [the climate strikes on September 20], because we have to be prepared to take that momentum and carry it forward," said Kallan Benson, 15, national coordinator for Fridays for Future USA. "I have so much hope as to all of this energy, but I'm also so stressed as to what happens if we do not harness that immediately."
April 22, 2020, marks the 50th anniversary of Earth Day. Much like the climate strikes of today, Earth Day started with young people, relying on youth to build the day into the global movement it is today. Strike on September 20 to support the youth climate movement and carry that momentum to Earth Day 2020. Together, we can take to the streets and demand climate action from our leaders.