Climate Action
Recap of 50th anniversary: Digital Earth Day connects millions in global calls to action
The 50th anniversary of Earth Day was unlike any previous demonstration. Entirely online, Earth Day Live was an experiment.
For months leading up to the event, as the reality of the coronavirus pandemic settled in, organizers shifted — then eventually scrapped — plans for a massive in-person demonstration. People scrambled. One of the most historic environmental moments in history was in jeopardy.
But on Wednesday, after 24 hours of continuous online content, millions reaffirmed their support for Earth Day and the environmental movement.
The Earth Day Live video stream, which ran for 12 hours on Earth Day, showcased hundreds of diverse voices. Social media platforms showcased millions more. The message was clear: People demanded change from their leaders.
The livestream show, hosted by actor Ed Begley, Jr., and his daughter, Hayden Carson Begley, provided an array of content, including interviews, panels, teach-ins, performances, discussions and above all, calls to action.
Human health and planetary health are inextricably linked. Protecting one means protecting the other. Millions rallied behind this idea to create the first Earth Day in 1970, and, 50 years later, for Earth Day Live, millions rallied behind it again.
Below are our major takeaways from Earth Day Live, the 50th anniversary of Earth Day.
Pope Francis called for action and unity
Early in the morning on the United States' East Coast, Pope Francis called for action and unity at his general audience. He said humans were failing as guardians of the Earth because of our exploitation of resources and damage to ecosystems.
"Because of our selfishness, we have failed in our responsibility to be guardians and stewards of the Earth," the pope said. "We have polluted and despoiled it, endangering our very lives."
Overexploitation of the Earth not only adversely affects the balance of ecosystems — it also leads to eventual declines in economic growth. We must remember, as the pope said, "we stand on holy ground."
Dig deeper: Read our recap of the pope's message.
Messages of hope mixed with urgent demands
Former U.S. Vice President Al Gore sent an urgent call for an end to the burning of fossil fuels. Globally, humans pump over 36 billion tonnes of carbon dioxide into the atmosphere per year — which caused the former vice president to compare our atmosphere to "an open sewer."
Gore was, however, cautiously optimistic. We've expanded opportunities for renewable energy and now we just need policy to follow: "For anyone who is tempted to be discouraged, don't give into that temptation… We have work to do," said Gore.
Indian actor and producer Anil Kapoor, impressed with the way humanity has worked together in the fight against COVID-19, shared a message of hope: "This unity is priceless… Climate change is real and so is the threat to our environment. But if we come together, like we did to fight COVID-19, we can and we will heal the world," said Kapoor.
António Guterres, the secretary-general of the United Nations, also had a message for the world: We face not one, but two global threats.
"We must act decisively to protect our planet from both the coronavirus and the existential threat of climate disruption," said Guterres in a video message.
Dig deeper: Read our recap of the U.N. secretary-general's message.
Global Halt dominated the streets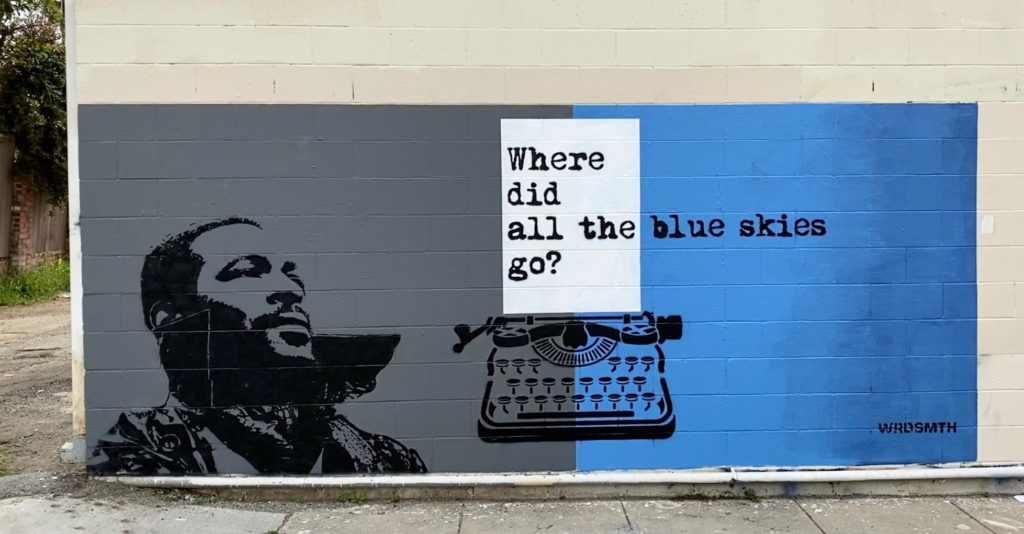 Global Halt, a street art campaign that kicked off on Earth Day, connected hundreds of artists from around the world. Graffiti writers, street artists and muralists from every continent seized the power of art to inspire action for our planet on Earth Day's 50th anniversary.
"It's going to be wild," said Los Angeles-based street artist Meg Zany, ahead of the event. And Global Halt did not disappoint.
Because of the pandemic, the projects looked different than in years past, but that didn't stop street artists from sharing their work on social media. The pieces all had a similar theme: Demanding change and commanding a brighter future for the planet.
Dig deeper: See the artwork inspired by Global Halt in our coverage of the campaign.
Art and music dominated the streams
Art has always been a driver of environmental activism. On the first Earth Day in 1970, 20 million people rallied to demand action, including famous artists such as the late folk-singer Pete Seeger.
The 50th anniversary was no different, with artists sending a resounding message to the world: Unify behind climate action.
The livestream featured painters, sculptors, musicians and photographers. Well-known artists – like Aloe Blacc, Ziggy Marley and Nahko – performed covers of inspiring songs, while singer-songwriters Jason Mraz and Jack Johnson debuted original pieces dedicated to the planet.
"Now more than ever, our future is really uncertain," Artist for the Earth Courtney Mattison, a sculptor and coral reef conservationist, said in a video message. "But one thing is for sure: We're all in this together."
Dig Deeper: See what artists inspired hope and unity on the 50th anniversary of Earth Day.
Plant-based foods drove the afternoon
Switching to a plant-based diet is taking "the single most impactful step that you can take as an individual to fight climate change," according to Dotsie Bausch, executive director of the nonprofit Switch4Good, in a panel discussion that aired during the live show.
The United Nations estimates that animal agriculture accounts for at least 14% of global greenhouse gas emissions. And, studies also show that eating red and processed meats increases health risks, such as heart disease, cancer and diabetes.
The afternoon was packed with ideas for plant-based dishes — from 13-year-old Genesis Butler, chef and TV host Jason Wrobel and others — intertwined with messages from athletes like hockey players Zdeno Chára and Georges Laraque, baseball player Chase Utley, football player Derrick Morgan and soccer gold medalist Heather Mitts.
We truly saw the power of plant-based foods — for people and the planet.
Dig deeper: Check out our blog, "Plant-based food fuel conversations on Earth Day Live."
To preserve biodiversity, we must act now
With everyone at home, the Earth seems to be reverting to its natural self. Sea turtles are hatching and surviving at record rates. Oceans are the quietest they've been in decades. And, air pollution has plummeted in major cities.
Renowned oceanographer Sylvia Earle and photographer Paul Nicklen came together on Instagram live to discuss the future of our oceans, emphasizing how the oceans regulate the climate to make all other life on Earth possible. If we act now, we can protect vital ocean biodiversity.
Dig deeper: Read our blog on Earle and Nicklen's conversation and call to action.
Earth Day Network called for 24 hours of action
Each hour on Earth Day, Earth Day Network's website and social media displayed a new call to action. Thousands of people joined to carry out each action for the full 24 hours of Earth Day.
Participants registered to vote, tried new plant-based recipes, switched to green power and downloaded Earth Day Network's citizen science app, Earth Challenge 2020.
In honor of the first Earth Day in 1970, which incorporated educational teach-ins, several calls to action asked teachers to dedicate a class to climate change or students to advocate for action on college campuses.
Dig deeper: Check out the full list of actions online.
Youth made their voices heard
Following the youth climate strike momentum of 2019, young activists from around the world were front and center on Earth Day 2020.
The full-day stream included a wealth of youth activists, including 13-year old Genesis Butler, 23-year old Vanessa Nakate, 19-year old Xiuhtezcatl Martinez 18-year old Xiye Bastida, as well as videos from youth environmental organizations from around the world. And, despite the overwhelming task ahead for their generation, they were hopeful and ready to imagine a better future.
"Many of us are losing hope for our future," Bastida said in a recorded message. "But despair is not an option, we must rise up and meet the greatest challenge of our lives with stubborn optimism. Imagining is the first step. Are you ready to imagine?"
Dig deeper: Read our blog, "19 youth activists you should be following on social media."
Voting was emphasized throughout the day
Guests urged viewers again and again to show up at the ballot box this year and vote for the Earth. 2020 is a big election year, with 65 major elections worldwide. And the future of the planet weighs on how we vote.
April 22 may have been Earth Day, but if we all demand climate action at the polls, we can make Election Day into Earth Day, too.
Dig deeper: Learn more about how 2020 is the most important election year for the environment.
And, that's a wrap — but the fight is far from over
Millions joined Earth Day online, and millions more must carry that momentum through 2020 and beyond.
The world needs a global response to climate change. It needs a mobilized, passionate voice. And it needs immediate and sustained climate action. To keep the fight for our planet alive, join Earth Day today, and remember: Earth Day is not just a day — it's a movement.