Climate Action
World leaders pressured to take action at UN Climate Action Summit
Following a global climate strike that turned out 4 million people across the world, world leaders met today at United Nations headquarters in New York City to discuss national contributions to the 2015 U.N. Paris Agreement, the international agreement that aims to limit temperature increase to 2 degrees Celsius.
The most powerful moment of the day's events came from youth climate striker Greta Thunberg, who is widely credited with starting the global youth climate movement of today through her weekly strikes outside of Swedish Parliament since 2018.
Thunberg, no stranger to verbal eviscerations of politicians, delivered her message on the verge of tears, her voice quaking with emotion.
"My message is that we will be watching you," she said. "This is all wrong. I shouldn't be up here. I should be back in school on the other side of the ocean. Yet you all come to us young people for hope. How dare you."
Addressing the U.N. General Assembly hall of more than 100 heads of state, Thunberg called out politicians for willful ignorance in the face of scientific reports that warn of the urgency of our climate crisis.
"People are suffering, people are dying. We are in the beginning of a mass extinction, and all you can talk about is the money and fairytales of eternal economic growth… For more than 30 years the science has been crystal clear. How dare you continue to look away," she said.
Earlier this year, world leaders were invited today's summit by U.N. Secretary-General António Guterres, who issued a very specific mandate reiterated in his opening this morning: Don't bring beautiful speeches. Bring concrete action.
In calling the event to order, Secretary-General Guterres reflected on Friday's global strikes that turned out millions — mainly students and young people — to demand increased political action for the planet.
"Young people are here insisting on accountability and demanding action," said Guterres. "They are right. My generation has failed in its responsibility to protect our planet. That must change."
On Saturday, the U.N. hosted more than 700 young climate leaders from around the world for the Youth Climate Action Summit, which straddled Friday's global climate strikes and Monday's head of state-level summit. At the youth summit, Guterres emphasized his commitment to the goals of the youth climate movement to demand the greatest possible commitments from world leaders.
"That is the problem with world leaders — they talk too much, and they listen too little. I believe that what the youth is doing today, what grassroots movements are doing today, is absolutely essential for [change] to happen," said Guterres on Saturday.
Monday's summit had been billed as the opportunity for world leaders to deliver that change. Heads of state — including New Zealand Prime Minister Jacinda Ardern, German Chancellor Angela Merkel and Marshall Islands Prime Minister Hilde Heine — opened the national commitment portion of the summit with their countries' plans to increase climate ambition.
Representing one of the most climate-vulnerable populations on Earth, Prime Minister Heine announced her country's new submission to the Paris Agreement, which increases the island nation's country-wide ambition to the historic 2015 agreement.
"In the spirit of the Paris Agreement… we have submitted a second and more ambitious commitment," said Heine. "Other countries must now follow our lead."
Adopted in December 2015 by 195 countries, the Paris Agreement on climate change made history with both its global support and its timeline for execution. The climate agreement entered into force in less than 11 months, an extremely fast turnaround for U.N. agreements, which often take years to enter into force.
The Paris Agreement target holds the world to less than two degrees Celsius of total global warming, but the numbers initially agreed upon don't add up: the 2015 and 2016 nationally determined contributions of each country only brings global warming down to about 3.2 degrees Celsius above pre-industrial levels. To make up the difference, the agreement was adopted with the understanding that nations would increase their national commitments every five years. The first of these collective assessments is in 2020.
Monday's U.N. Climate Action Summit is a way for Secretary-General Guterres to compel increased national commitments from heads of state before the 2020 deadline. Today's commitment from the Marshall Islands is a step in this direction, but many more nations must follow, including the world's largest emitters — China, India and the United States — if the agreement is to be met.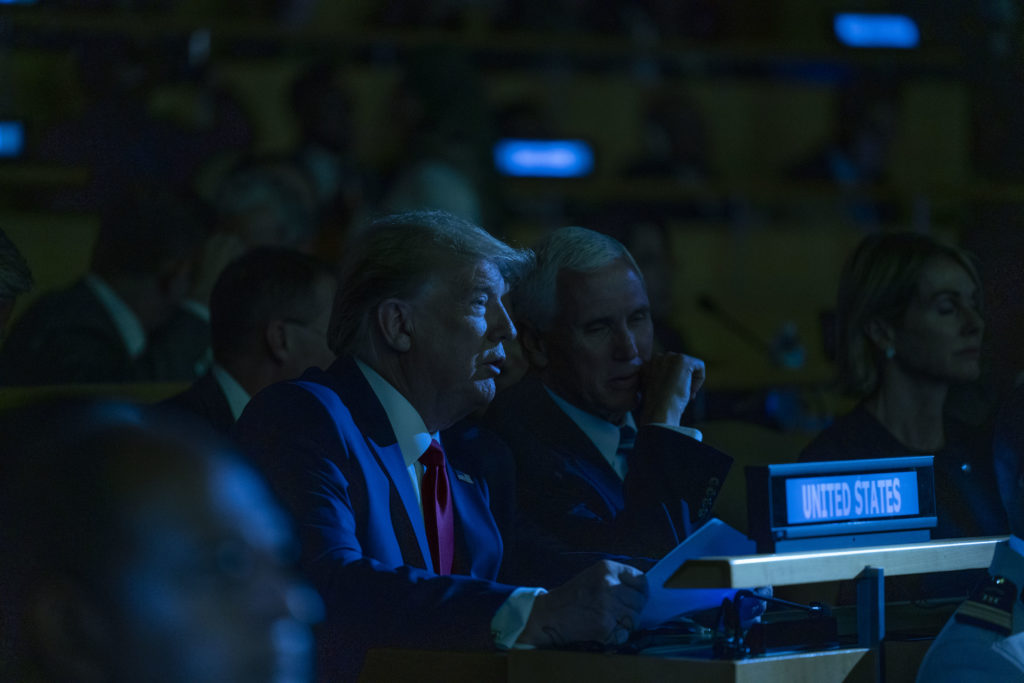 In 2017, the U.S. took a step backward with President Donald Trump's announcement of the intention to withdraw from the agreement. However, in accordance with the text of the Paris Agreement and its amendments, the earliest possible date that the U.S. can officially withdraw from the agreement is November 4, 2020 — one day before the U.S. presidential elections. If the U.S. withdraws, it will be the only member state in the world not in the climate agreement.
"Hopefully our discussions here will be useful for you when you formulate climate policy," said former New York City Mayor Michael Bloomberg in a direct call to President Trump, who briefly stopped by the climate summit Monday.
As Secretary-General Guterres prepared to receive announcements from heads of state at Monday's summit, he emphasized the urgency of acting on climate change: "I refuse to be an accomplice in the destruction of our own, and only, home… it is my obligation — our obligation — to stop the climate crisis before it stops us."
Thunberg had even stronger words for leaders, which she delivered in an unflinching tone to a noiseless room of politicians who can rarely be silenced.
"You are failing us," she said. "But the young people are starting to understand your betrayal. The eyes of all future generations are upon you. And if you choose to fail us, we will never forgive you. We will not let you get away with this. Right here, right now, is where we draw the line."
---
Image at top: Greta Thunberg speaks to the room of world leaders at Monday's U.N. Climate Summit. Photo credit: UN Photo/Loey Felipe