Foodprints for the Future
5 Eco-friendly suggestions for a sustainable 4th of July
By Cam Wejnert-Depue
If you're based in the U.S., you may be gearing up this week for patriotic festivities to celebrate Independence Day on July 4. Not only is the 4th of July one of the biggest holidays of the year, but between the single use plastics and the traffic jams, it's also a day with a major negative impact on the environment.
The plus side? The holiday can be a big opportuny to make some small but meaningful shifts that you can apply to every day – not just Independence Day. And what better way to show your patriotism than to take steps to protect the future of the home you hold so dear?
So before you go to the grocery store to get everything you need to party like it's 1776, check out some helpful tips on how to host a red, white, blue, and GREEN soiree this 4th of July —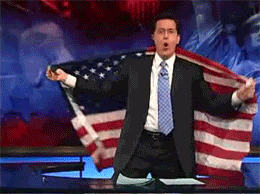 1. Buy Locally!
Did you know that nearly half of all fruit is imported to the US, and that food travels an average of 2,000 km from source to point of sale in North America? To avoid a large carbon footprint, a great way to be environmentally friendly this 4th of July is by eating local produce – it's even more convenient in the summertime when farmers markets abound.
If possible, source your produce like lettuce, tomatoes, corn, blueberries, and watermelon from local farmers to reduce the overall carbon footprint of your BBQ, support small and local business, and serve the freshest and most delicious to your guests.
2. If you can't reuse it, refuse it!
The 4th of July is all about freedom, so what better time to go plastic- and Styrofoam-free?
Instead of using a Styrofoam or plastic cooler use a reusable one – Styrofoam can't be recycled and would take hundreds, if not thousands, of years to break down in the landfill. What's more, reusable coolers often last longer and are better at keeping ice frozen and not melted.
In addition, instead of using plastic straws, cups, plates, and utensils, substitute your BBQ needs with 100% compostable options, or good old-fashioned silverware – the Founding Fathers/Mothers would approve!
You can also learn more about the effects of plastic on the environment and what you can do to stop plastic pollution via Earth Day Network's End Plastic Pollution Campaign.
Remember to throw away all your trash and recycle in order to leave the planet in a better condition than you found it!
3. Don't forget the veggies!
According to a recent University of Oxford study, meat and dairy production is far more taxing on global resources than their plant-based alternatives. Beef is particularly resource-intensive – with the water it takes to produce the 4 oz of beef in your quarter-pounder, you could take 26 8-minute showers!
According to one "foodprint" calculator, if every American reduced their meat consumption by just 10 percent (two meals a week) we could reduce CO2 emissions by 49.2 billion pounds a year.
From grilled veggies to chips and guac to the latest and greatest plant-based burgers hitting the market, there's a wide variety of plant-based alternatives to choose from for your 4th of July celebration!
Still having trouble finding some recipes? Check out Earth Day Network's Foodprints for the Future Campaign to find alternative recipe recommendations and life-hacks!
4. Protect the Earth while Protecting Yourself!
Protecting your skin from the sun is one of the biggest concerns in the summer, and especially on a hot July day, but did you know that some sunscreens are toxic for the environment?
According to the National Parks Service, somewhere between 4,000 and 6,000 tons of sunscreen enter coral reefs every year, and the common sunscreen ingredients oxybenzone and octinoxate have proven toxic to living corals, even causing destructive mutations at the genetic level. Higher levels of oxybenzone have also directly correlated with increased instances of coral bleaching, which happens when the symbiotic algae that live in and color coral are killed off.
While these statistics are bleak, you can reduce your own negative impact by avoiding products that contain oxybenzone and octinoxate – many great alternatives exist now to keep you – and the coral reefs – safe!
5. #VoteEarth!
While lifestyle changes like the ones highlighted above are great steps for everyone to take, protecting our planet is going to require bold and ambitious regional and national action from our policymakers. Do you know where your leaders stand on protecting the planet?
Before you head to the polls for local, city, state, and national leaders, do your homework – know the stances of your candidates and the policies they are running on to defend and protect our planet. Get involved, get informed, and #VoteEarth.
It's never too early to do your homework to elect leaders committed to protecting our home – learn more about Earth Day Network's #VoteEarth campaign here.
---
Looking for some of these products? Please consider using Amazon Smile to help support Earth Day Network's initiatives. It's simple: Log in to your Amazon account and click on the Amazon Smile link and choose Earth Day Network as the organization to benefit from your purchase.
---