Earth Day 2022 Action Toolkit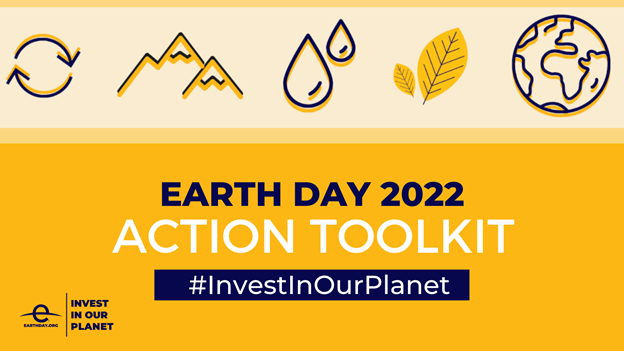 BOOKMARK/CHECK BACK FOR FREQUENT UPDATES
Everyone accounted for, and everyone accountable
#InvestInOurPlanet
The theme for Earth Day 2022 is "Invest in Our Planet." Earth Day 2022 is focused on accelerating solutions to combat our greatest threat, climate change, and to activate everyone – governments, citizens, and businesses – to do their part. Everyone accounted for, and everyone accountable.
Invest in Our Planet is focused on engaging the more than 1 billion people, governments, institutions, and businesses who participate in Earth Day to recognize our collective responsibility and to help accelerate the transition to an equitable, prosperous green economy for all. The goal of EDO's campaign is to push aside the barriers erected by the ancient, dirty fossil fuel economy and their co-conspirators – old technologies of centuries past – and redirect attention to creating a 21st century economy that brings back the health of our planet, protects our species, and provides opportunities for all. EARTHDAY.ORG's campaign is focused on reframing the conversation, accelerating action, and bringing us together to understand that this is within our reach if we work together.
Invest In Our Planet. What Will You Do?
Learn about our campaigns, use our volunteer toolkits, and find resources to get involved in the sections below.
For more information on Earth Day 2022, the official theme, updates, and how to get involved, please visit: https://www.earthday.org/earth-day-2022/
To find Invest In Our Planet Logos, click here.
To find Invest In Our Planet Graphics, click here.
Get Involved with Earth Day Every Day
More than 1 billion people in 192 countries now participate in Earth Day activities each year, making it the largest civic observance in the world. Today, we invite you to be a part of Earth Day and to help further climate action across the globe.
Every year, EARTHDAY.ORG coordinates events around the world to showcase global support for the environmental movement. Hold an Earth Day event and register it with us to be a part of the worldwide celebration of Earth Day.
Are you part of an organization that is planning something for the next Earth Day? Partner with us today and work TOGETHER to support the movement. Then, use our toolkit to help plan your event!